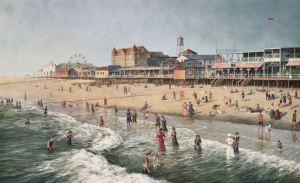 A companion to Bunk Mann's best selling "Vanishing Ocean City," Ghosts in the Surf features Ocean City Memories from the summer of 1945 to the spring of 2019. With over 700 photos and 340 pages, this hardbound coffee table book with cover art by Paul McGehee is something you do not want to pass up! There are various specials sections throughout the book including lost buildings of Ocean City, the March Storm of 1962, Frontier Town, Trimper's Rides, Shanty Town, Hurricane's Gloria and Sandy, The White Marlin Open, Surfing, the Ocean City Beach Patrol, Phillip's Crab House, the Commander Hotel, the Segregation Era, the Arson fires of the 1970s and so much more!
Buy Ghosts in the Surf Online
Not only is Ghosts in the Surf available for purchase at select locations around Ocean City, but you can also buy Ghosts in the Surf online.
Ghosts in the Surf Photos