Ghosts in the Surf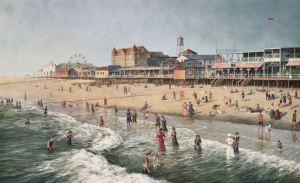 A companion to Bunk Mann's best selling "Vanishing Ocean City," Ghosts in the Surf features Ocean City Memories from the summer of 1945 to the spring of 2019. With over 700 photos and 340 pages, this hardbound coffee table book with cover art by Paul McGehee is something you do not want to pass up! There are various specials sections throughout the book including lost buildings of Ocean City, the March Storm of 1962, Frontier Town, Trimper's Rides, Shanty Town, Hurricane's Gloria and Sandy, The White Marlin Open, Surfing, the Ocean City Beach Patrol, Phillip's Crab House, the Commander Hotel, the Segregation Era, the Arson fires of the 1970s and so much more!
This book is available at select location in Ocean City, Berlin, and Salisbury.
Buy Ghosts In The SurfView Photos
---
Vanishing Ocean City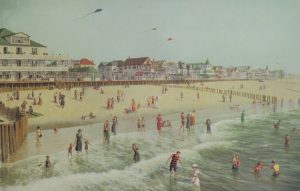 With over 500 photos and images, Vanishing Ocean City takes you through a truly unique history of Ocean City, from its beginning in 1875 to the present. Author Bunk Mann spent 7 years compiling photos (most of which have never been published) and stories of Ocean City's colorful history, with memories of the great storms and fires, life on the Boardwalk, Ocean City's famous characters, the Ocean City Beach Patrol, deep sea fishing, and more.
Flip through the 220-page hardbound book and travel back in time with images of the early hotels and the long vanished buildings that make up Maryland's famous beach resort.
Locations to Purchase Bunk's Books

Art League of Ocean City
502 9th Street
Ocean City, MD 21842Berlin Auto Wash
10432 Old Ocean City Blvd,
Berlin, MD 21811Copy Central
Cathell Road,
Berlin, MD 21811Crabs To Go
11247 Ocean Gateway,
Berlin, MD 21811Donaway Furniture
13001 Coastal Highway,
Ocean City, MD

Crabs To Go
11247 Ocean Gateway,
Berlin, MD 21811

Donaway Furniture
13001 Coastal Highway,
Ocean City, MD

Green Turtle Apparel
11601 Coastal Hwy
Ocean City, Maryland 21842

Harpoon Hanna's,
Rt. 54
Fenwick Island, DE 19975Ish Boutique3408 Coastal Hwy
Ocean City, MD 21842Kitty's Flowers
11021 Nicholas Ln
Berlin, MD 21811Kitty's Flowers
733 S Salisbury Blvd
Salisbury, MD 21801M.R. Ducks
Talbot Street
Ocean City, MD, 21842

Malibu's Surf Shop
713 N Atlanic Ave
Ocean City, MD 21842

Mann and Gray Insurance
100 S Camden Ave
Fruitland, MD 21826

Mann Properties
220 16th Street

Ocean City Chamber of Commerce
Old Ocean City Road | Ocean City, MD

Ocean City Life-Saving Station Museum




Boardwalk at the Inlet

Ocean Gallery




Boardwalk at 2nd Street

Park Place Jewelers
Boardwalk at 3rd Street


White Marlin Mall

Seacrets


49th Street and the Bay

Southside Deli
Ocean Pines

The General's Kitchen
67th Street and Coastal Highway
Ocean City, MD 21842

Victorian Charm
100 N. Main St.
Berlin, MD 21811

Country Side Café
37242 Lighthouse Rd West
Selbyville, DE 19975

Wockenfuss
White Marlin Mall
Ocean City, MD 21842