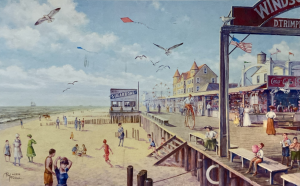 Ocean City Chronicles is the final book in Bunk Mann's three volume historical series which began with "Vanishing Ocean City" in 2014 and continued with "Ghosts in the Surf" in 2019. Centered around his articles in Ocean City's award winning newspaper the Maryland Coast Dispatch, his latest book features 285 of the most popular ones over the past eleven years. It includes hundreds of photos of long vanished hotels and restaurants, the great storms and fires, deep sea fishing, Boardwalk attractions and amusements, and stories of the people who turned a small 19th century fishing village into modern year-round destination. "Ocean City Chronicles" is a comprehensive history of Maryland's famous oceanfront resort in a hardbound coffee table book featuring cover art by noted artist Paul McGehee. Supplies are limited so order your copy today!
Buy Ocean City Chronicles Online
Not only is Ocean City Chronicles available for purchase at select locations around Ocean City, but you can also buy Ocean City Chronicles online.
Ocean City Chronicles Photos